08.09.19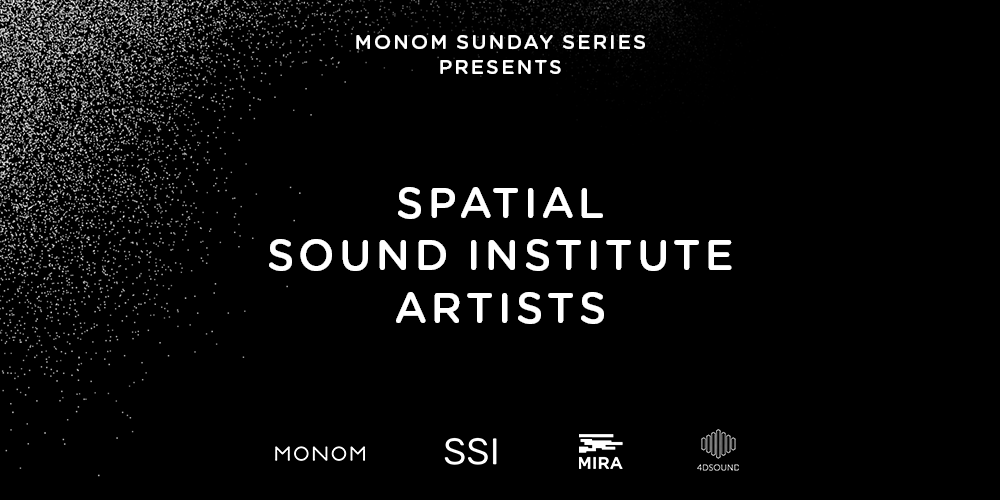 September Sunday Series Featuring Spatial Sound Institute Artists
Imagining the Hyperspace by IOANN

Co-presented by MONOM & MIRA 08.09.19 in Berlin, MONOM @ Funkhaus Berlin
Tickets for Imagining the Hyperspace by IOANN
Berlin
---
Information
Curated as part of 4DSOUND: Reflections From the Inner Mirror, Ioann presents a series of nine sculptures of each a particular geometrical shape in sound - from very simple ones, as well as a line, triangle and square to highly complex ones such as the pentatope and octaplex.

Together with 4DSOUND founder, Paul Oomen, he created Imagining The Hyperspace which seeks to reveal the multidimensional nature of listening. Geometrical sound shapes, manifesting themselves in a three-dimensional space, become (at least) four-dimensional as the listener discovers themselves to a defined point that is part of the shape. Thus, the perception of shape changes each time we move through space, tilt our heads or rotate our bodies.We become aware that it is an attribute of our consciousness.

Imagining the Hyperspace invites to explore space beyond our ordinary perception, to discover what else is inherent to human nature and how we are to evolve consciousness, using sound to achieve a deep awareness of space and its multidimensional character.
________


SCHEDULE & TICKETS
'Imagining the Hyperspace' runs 3 hours in its entirety. Guests are welcome to enter the quietly at anytime but experiencing the whole work is encouraged.
Your ticket wants to gain you entrance to either showing.
13: 00-16: 00
16:00 -19: 00
________


ioann
IOANN, is the current artist project of Ivan Sapozhkov, born in Tyumen, Western Siberia, Russia. He graduated from the Department of Philology at the Tyumen State University in 2006, his musical career spans from his early childhood classical music training to Sapozhkov founding his first Rock and metal groups in the early 2000s. Molot vediM and released the worldwide acclaimed studio album Asylum in 2004. Since 2006, He began experimenting with forms of electronic sound and virtual instruments, working in the field of experimental sound, film and theater as a composer and musician. In 2014, Sapozhkov founded his experimental sound studio and label Negativespace.
In 2016, he was named Artist-in-Residence at the Spatial Sound Institute in Budapest, where he continues his research on the perception and spatial projection of multidimensional sound structures.
________


SPATIAL SOUND INSTITUTE

The Spatial Sound Institute is a research and development center for spatial sound technologies and practices based in Budapest, Hungary.

Since its opening in October 2015, the Institute hosts a multidisciplinary program of spatial sound design as an emerging area of study. Danube, the facility is centered around a large scale 4DSOUND studio used for artist residencies, educational workshops, and regular public events.

4DSOUND over the past decade, with more than a hundred contributors in the fields of music, technology, architecture and media arts.

www.spatialsoundinstitute.com
________


MIRA Digital Arts Festival

MIRA is a digital arts festival based on three interconnected areas: exhibition, divulgation and education, and is held annually in Barcelona (since 2011). A program of audiovisual shows in both traditional and full-dome formats, digital art installations, screenings, conferences and workshops.

MIRA wants to bring the audience closer to real life and create unique immersive experiences through technological innovation and theories.

www.mirafestival.com