31.01.20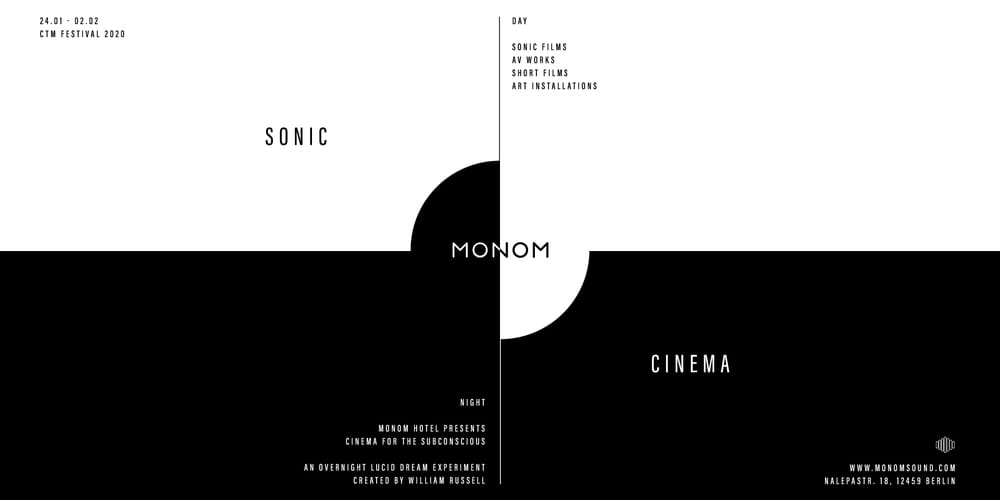 MONOM's Sonic Cinema
Single Sonic Session Ticket: Session Two

31.01.20 in Berlin, MONOM @ Funkhaus Berlin
Tickets for Single Sonic Session Ticket: Session Two
Berlin
---
Information
A single ticket grants guests access to Sonic Cinema: Session Two, the Compound Terrain installation and Light Strikes art exhibition curated by Rooms of Kairos.
---
Sonic Cinema: Session Two
Seid by KhalilH2OP
nimiia cétiï by Jenna Sutela
Crevices by Xenia Xamanek
Jan 25th, 26th, 27th, 28th, 29th, 30th, 31st
Feb 1st, 2nd
16:40 - 18:10
---
Seid
by KhalilH2OP
On the 25th of January, MONOM will premiere the audiovisual piece Seid by Copenhagen trio KhalilH2OP, the collaborative effort of Yen Towers, NikkiH2OP, and Minais B. The Posh Isolation signed trio have adapted their new album with the same title for MONOM's 4DSOUND spatial sound system, following the esteemed "The Water We Drink" from 2017. Voices, synthesizers, flutes and acoustic guitars will travel between the rooms 16 columns of speakers. Performer Paolo Gile, photographer Frederik Barfod and artist Veronika Vidø have contributed with video material for the room's four 5 x 3 meter screens, hung between the speaker-columns.
Expect lip-sync, ritual dance and pagan beings. In Old Norse, Seid was a type of shamanic sorcery that functioned as a medium between worlds. The lyrics of vocalist NikkiH2OP plays on this theme, both relating to today's ignorance towards nature and personification of dead objects, but also to the natural, transitional phases happening inside of everyone of us. This connects with the theme of CTM 2020 'Liminal', with the festivals own words: "Liminal phenomena and liminoid states are transitional phases in which a familiar order sees its values and symbols destabilized." Seid will be presented in three acts: Galdr 2100 (Wetnotes), Sectioned (23.5), Altered (Sky Silky).
Act 1: Galdr 2100 (Wetnotes)
Something Sacred. Traversing from neon blue to fluorescent white.
End now, I still won't settle down. The function of me keeps going even though I'm not there, like a fish out of water. I wipe away tears like I'm driving, drawn out sky to dive in. The sea is still all marble, but never like this.
Act 2: Sectioned (23.5)
Let go of the sky and the feeling I called wings. Reached the point where I know I'm no longer in an upward pointing arch. I let go of surroundings first and the understanding of my own abilities to navigate in them second. Surface to endless depth, I magnify everything, I am max. I'm the glass that shatters from the heat it amplified itself. Even when I'm in the dark, I'm in the dark with you.
Act 3: Altered (Sky Silky)
It would have been nice to know how much everything hurt. Nice to know how ex's ballads bite. It's the biggest deceit, I eclipse like I'll leave but I song. Not even the sun tells the truth now.
It's not that I don't occupy the same vessel as you, but functions have been stripped. It is impossible to tell if I'm in the process of being optimized or deteriorating. While happening, both are painful. My balance is weakened.
We're no longer about anything other than us.
We share day and night only forwards.
All music by KhalilH2OP
Dance performance by Paolo Gile.
Visual material and editing by Frederik Barfod and Veronika Vidø.
---
nimiia cetii
by Jenna Sutela
Jenna Sutela works with words, sounds, and other living media, such as Bacillus subtilis nattō bacteria and the "many-headed" slime mold Physarum polycephalum. Her audiovisual pieces, sculptures, and performances seek to identify and react to precarious social and material moments, often in relation to technology. Sutela's work has been presented at museums and art contexts internationally, including Guggenheim Bilbao, Museum of Contemporary Art Tokyo, and Serpentine Galleries. She is a Visiting Artist at The MIT Center for Art, Science & Technology (CAST) in 2019-20.
nimiia cétiï (2018) is an audiovisual work by Jenna Sutela using machine learning to generate a new written and spoken language. This language is based on the computer's interpretation of a Martian tongue from the late 1800s, originally channeled by the French medium Hélène Smith and now voiced by Sutela, as well as the movement of Bacillus subtilis nattō, an extremophilic bacterium that, according to recent spaceflight experimentation, can survive on Mars. The machine, in this project, is a medium, channeling messages from entities that usually cannot speak. The work is also about intelligent machines as aliens of our creation.
nimiia cétiï was created in collaboration with Memo Akten and Damien Henry as part of n-dimensions, Google Arts & Culture's artist-in-residence program at Somerset HouseStudios. Thanks to Kieran Bates from the Institute of Zoology at Imperial College London, Adam Laschinger for sound recordings, and Manus Nijhoff and Leïth Benkhedda for 3D work. The video includes music with Miako Klein in contrabass recorder and Shin-Joo Morgantini in flute, with sound production by Ville Haimala
---
Crevices
by Xenia Xamanek
Xenia Xamanek presents Crevices a Sonic Film that expands her recent work with disembodied voices, ghosts and distanced intimacy together with the internet phenomenon ASMR and the creation of hyper-present holograms of sound. The piece offers a space to reflect upon the various states human existence may occupy and blurs the line between life and death. As a poetic composition, Crevices explores the ancient Latin American legends and stories about the afterlife addressing the many ways for love to be present.
Copenhagen-based composer and sound artist Xenia Xamanek has created a name for herself with her expressive style, and wired the underground scene for electronic music. Having studied the rules of composition and been formally trained on saxophone, Xenia Xamanek is an artist who is appealed to ignore all rules in order to approach her idiosyncratic style of music. She debuted in 2015 with "Men's Health", released under her previous alias Equis. Since then she has been involved in several collaborations and projects experimenting with site-specific sound art, audiovisuals performances and much more. Her second release "No plants: No life" from 2016, is a mixture of deconstructed techno, harsh noise and immersive ambient confirming the uniqueness of Xamanek's sound. She released her first solo LP under the alias Equis,
Xamanek is a true contemporary hardware explorer who pushes her sound material in unusual ways, navigating an adventurous field and creating a surreal soundscape of high standard.
Recent release is the album 'Envase'. Released November 2018 on Anyines.
---
Compound Terrain
by Tom Slater and Jeremy Keenan
January 25th, 26th, 27th, 28th, 29th, 30th, 31st
February 1st, 2nd
15:45 to 16:25
And
18:25 to 19:05
* Access is included in both single sonic cinema session tickets and full-day tickets.
Developed in residency at the Spatial Sound Institute, Compound Terrains, by Tom Slater and Jeremy Keenan, is an audiovisual work that emerged from an interrogation of three-dimensional audiovisual spatialization technologies and their role in the production of so-called virtual and disembodied spaces.
Compound Terrains is an attempt to locate the perceived barrier separating digital and physical space and raises the question: are virtual objects now capable of generating the same perceptual effects as real objects? By converging laser beam projections with OpenGL graphics and the immersive audio capabilities of the 4DSOUND system, this installation induces an ambiguity of multistable, digital / physical and dis / embodied space. These hybrid spaces suggest different regimes of synaesthesia, knitting sensations together in varying proportions.
Compound Terrains is perhaps a contemporary contribution to the trompe l'oeil arms race, but essentially it aspires to render the concept moot in our felt experience of its protean light and sound.
https://spatialsoundinstitute.com/Compound-Terrain-2017-2018
https://www.jeremykeenan.info
---
Light Strikes: An art exhibition curated by Letizia Trussi - Rooms of Kairos
January 25th, 26th, 27th, 28th, 29th, 30th, 31st
February 1st, 2nd
Daily from 13:30 pm - 19:30
* Access is included in both single sonic cinema session tickets and full-day ticket
Featured artists:
Friedrich Gobbesso
Nicolas 'NIKI' Kramar
Alessandro Lupi
Marie Moon
Isabelle Tellie
Light strikes, defines the surface of the existing and establishes the visible. It reflects from objects that continuously try to deceive us, carrying their truths and lies. The connective space both represented and traversed by light becomes a malleable component in the hands of the viewer, who is invited - if not forced - to interact and react.
Based on analog optical interplay of light and shadow, the works presented in the exhibition rebel to the status of still object and elude 2D norms and predictability. They fiercely introduce themselves through mind-bending messages and thought-provoking visions sent from the lands of interference, multi-dimensionality, and metamorphosis.