12.04.18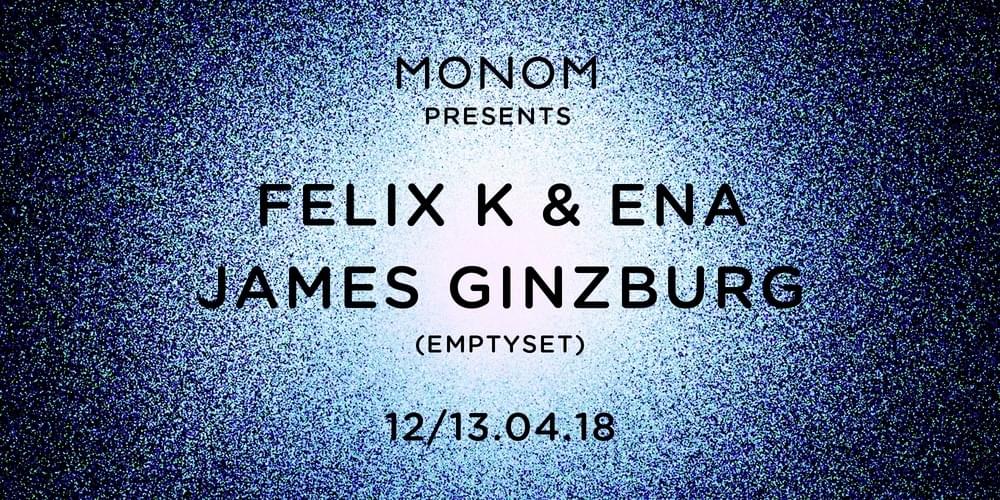 Felix K & Ena & James Ginzburg (Emptyset)

12.04.18 in Berlin, MONOM @ Funkhaus Berlin
Tickets for Felix K & Ena & James Ginzburg (Emptyset)
Berlin
---
Information
FELIX K [hidden hawaii, dystopian]
Felix K is a DJ and Producer from Berlin; the visionary behind the labels '0000′, 'Hidden Hawaii', Gilga', 'QNS', 'SUB' and 'Solaris Series'. His DJ carreer goes all the way back to 1997, when he started as a DnB DJ. 2007 turned out to be the year he stopped collecting DnB records in favor of Techno and House.
Although you can certainly recognize an immense intertext of inspirations that spans from music and movies to art and architecture, Felix' production output is hard to pinpoint to any specific musical genre. When listening to his music, it's hard not to appreciate the way he filters his inspirational input into unique moody and dubby music.
http://www.residentadvisor.net/dj/felixk
https://www.facebook.com/flxk1
ENA
ENA is a music producer from and based in Tokyo. He is a major player in the Japanese underground dance music scene for more than a decade. Taking influences from early drum & bass productions, rave sound and abstract hip hop, ENA is recognized for his tight production techniques and massive audio dynamics. Uncompromising, forward thinking and unique, his releases on 7even Recordings, Horo and Latency brought international attention and have led to collaborations with like­minded virtuosos such as Felix K and Rashad Becker which were both invited to perform on the main stage of Berlin Atonal festival (in 2016 and 2017 respectively.)
His expert music selection and technical excellence continues to impress the audience in and outside of Japan. Having toured Asia and Europe numerous times and appearing in wide range of prominent international festivals such as Berlin Atonal, rural, Fibre, Mapping and Sun and Bass in the past few years, he is establishing himself as a singular performer fitted to deliver a primetime rave set to a gritty basement fix to abstracted sonic experiments.
SoundCloud https://soundcloud.com/ena­iai
Twitter https://twitter.com/enamusic_
Facebook https://www.facebook.com/enamusictokyo Discogs https://www.discogs.com/artist/1233083­Ena­2 Resident Advisor https://www.residentadvisor.net/dj/ena
RBMA Daily Interview
http://daily.redbullmusicacademy.com/2016/05/ena­balance­and­dissonance
JAMES GINZBURG (Emptyset)
James Ginzburg is an American­British artist and musician based in Berlin.
In 2004 James founded Subtext recordings and Tectonic recordings with British electronic musician Pinch, both of which were labels integral to the beginnings of Dubstep and the subsequent international expansion of the genre. Pinch and James' track "War Dub", the first release on Tectonic, is generally regarded as a seminal track in the genre.
In 2005 James began collaborating with Paul Purgas on emptyset, a project which interrogates the boundaries between experimental music and conceptual art. emptyset's work has been presented by a variety of institutions including the David Roberts Art Foundation, Tate Britain, the V&A museum and Zurich Kunsthalle, and they have performed around the world at events such as Krakow's Unsound and Berlin's CTM festival. The project's sonic output has been released by Thrill Jockey, raster noton, and Subtext.
James' 2009 and 2010 collaborations and major label remixes for artists such as Example, Basement Jaxx and Zero 7 with Bristol Based electronic musician Joker under the moniker Ginz went on to enormous critical acclaim, in particular the track "Purple City." which in addition to extensive international club and radio play, appeared in diverse contexts such as the Mercury Music Prize and CSI. James' solo output also has included an experimental folk album under the name of Faint Wild Light, and scores for collaboration with visual artist Joanie Lemercier.
James currently curates Subtext recordings and collaborates with Jennifer Allan on Arc Light Editions, which is a record label that has released music from Arthur Russell, Ingram Marshall, and Joan la Barbara.
Additionally, from 2004 till present James has been the director of Multiverse, a network of labels, publishing company and studio that focuses on experimental and contemporary electronic music in contexts ranging from boutique underground releases to major studio film scores.