12.-13.10.19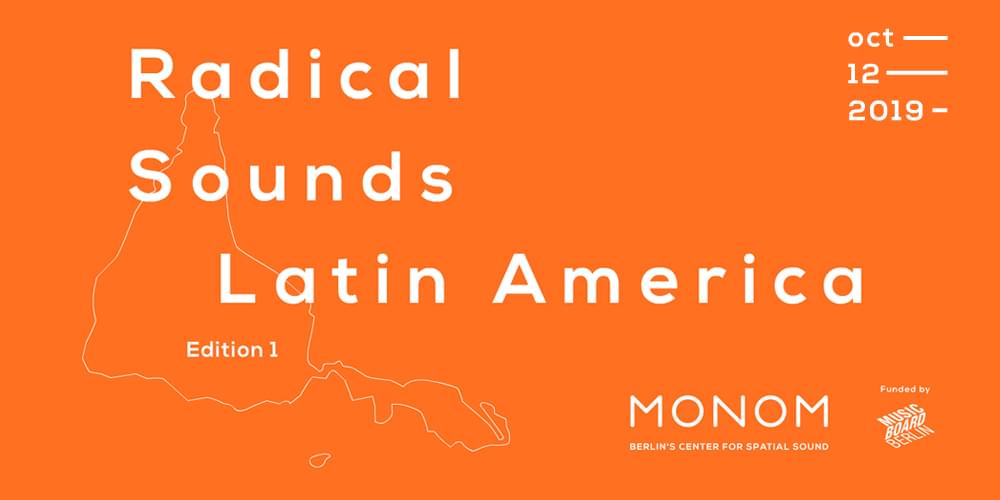 Radical Sounds of Latin America

12.-13.10.19 in Berlin, MONOM @ Funkhaus Berlin
Tickets for Radical Sounds of Latin America
Berlin
---
Information
Radical Sounds Latin America music is a festival that explores Latin American music, a space that celebrates its own, interdiction, exchange, collaboration, experimentation and research.

The first edition of the festival will take place on the 12th of October 2019 in MONOM, Berlin's experimental performance venue and 4DSOUND spatial sound studio located at the historic Funkhaus Berlin. It will be a future-oriented musical encounter that includes live performances, panels, and workshops.

First confirmed artists:
Lucrecia Dalt
Tatiana Heuman
Ale Hop
TAYHANA

Prepare yourself for 12-hours dedicated to Latin America.
Lucrecia Dalt
Born in Pereira, Colombia in 1980, and now based in Berlin, Germany, LUCRECIA DALT has seen her profile as a musician, sound artist and performer develop into high international regard. Her recorded albums - numbering seven in total since 2005 debut - encompassing the dual worlds of avant-garde and contemporary electronics, drawing in the background as a civil engineer as well as music and philosophy from across the world. Dalt's most recent album - acclaimed anticlines, released May 2018 through New York's RVNG Intl. - which was created from synthesis, voice, vocoding and feedback among other musical techniques. It has been described as a marvelous exploration of mercurial ambient music. As a performer, Dalt's philosophical metaphor about creating a complex, haunting narrative, embodying many artistic disciplines with the thought and contextual detail that goes into her work; deeply framed messages are bound together with abstract jagged music, rigid sound design and haunting, poetic vocals, to create a richly layered performance. It is at first felt a bit convoluted, but deep inside the music and beyond the lyrical narrative read a profound piece of insular art.
lucreciadalt.tumblr.com

Tatiana Heuman
Argentina's Tatiana Heuman displays a multi-layered collection of deconstructed pop songs marked by stuttering percussion, chaotic micro samples, and infectious vocal melodies. Heuman describes her last album 'QEEI' (Astro Nautico, 2018) as a collection of audible planets within orbit of the same galaxy of emotions. 'QEEI' does violence to borders through glassy ultrasound and entrancing hyper rhythms. There is a side of digital brutalism to the music as well as humanistic breathing synth scapes. Heuman experiments with the plasticity of personality, forth "inner territory interacting with its own limits." The result: "Wars."

Ale Hop presents 'OCEANIC'
Berlin-based artist, researcher, and experimental instrumentalist from Peru, Ale Hop has been artist-in-residence at MONOM, Berlin's Center for Spatial Sound, during the month of August 2019, to develop a composition especially for the first edition of Radical Sounds Latin America. The resulting piece OCEANIC presents us with an immersive four-dimensional environment evoking complex sound-metaphors and intimations between past memories and future reconfigurations. Exploring with the possibilities of the 4DSOUND spatial sound system, that allows the production of sound holograms, the artist creates a morphological interplay of evocative sound memories that are related to the South American history and geography. To make a live performance of the artist uses fragments of field recordings and a complex repertoire of extended techniques for electric guitar and real-time sampling devices; that always come back to the sound motif that mimics the oceanic wave movement, as if we were already sunk in its depths.

TAYHANA
Argentinian DJ and producer currently based in Mexico City, Latin America music, from reggaeton through cumbia to carnival sounds, all put together in the context of the contemporary club. As a producer, TAYHANA is just as adept at fusing sounds, distorting echoes of trance and gabber through collapsing cumbia rhythms and walls of bass.
https://soundcloud.com/tayhana