12.-13.10.19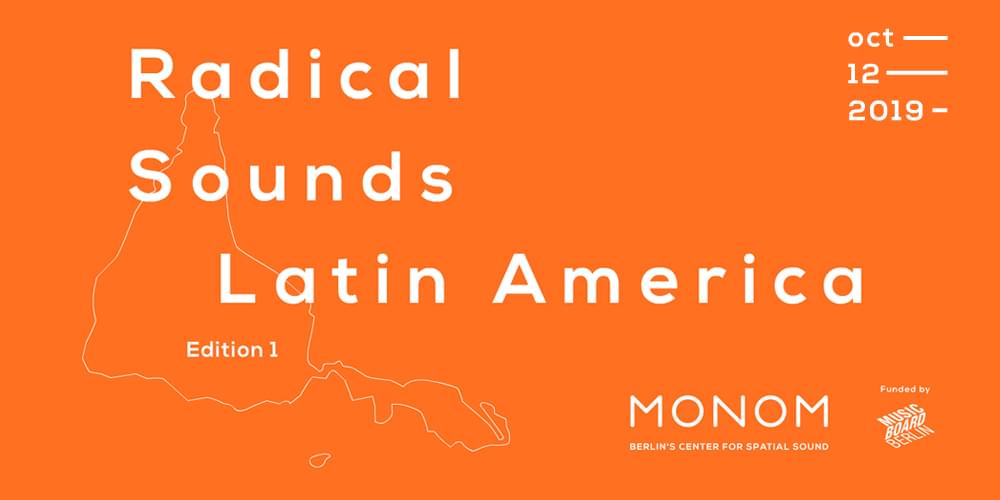 Radical Sounds of Latin America

12.-13.10.19 in Berlin, MONOM @ Funkhaus Berlin
Tickets for Radical Sounds of Latin America
Berlin
---
Information
LINE UP
Live acts
Lucrecia Dalt
Tatiana Heuman
Mauricio Takara
Ale hop
ℌEXOℜℭℑSMOS
DJs
Orieta Chrem
Salisme
TAYHANA
BadSista
Visual installation: Alex Guevara
Performance: #MyBodyMyChoice directed by Lauren Pringle.
Workshop: Cajón, Instrument in Migration with Laura Robles
Panel: Migration, the eurocentric experience & forward thinking Latin American music.
Moderated by Nathassia Arrua / PERIGGA (No Shade)


monomial
WITH THE OPENING OF MONOM AT THE HISTORIC TELEVISION ON DECEMBER 1ST 2017, BERLIN GAINS AT EXPERIMENTAL PERFORMANCE VENUE AND STATE OF THE ART SPATIAL SOUND STUDIO.
At the heart of MONOM is the 4DSOUND system. 4DSOUND is a creative and technical collective exploring spatial sound as a medium, collaborating with over 100 artists during a long period of research, experimentation and public performance. This one of a kind instrument immerses up to 400 people inside 48 omnidirectional speakers suspended throughout the venue, extending to 9 powerful subs submerged beneath acoustically transparent floor.
Ale Hop presents 'OCEANIC' in 4DSOUND
Berlin-based artist, researcher and experimental instrumentist from Peru, Ale Hop has been to artist-in-residence at MONOM, Berlin's Center for Spatial Sound, during the month of August 2019, to develop a first edition of Radical Sounds Latin America. The resulting piece OCEANIC presents us with an immersive four-dimensional environment evoking complex sound metaphors and intimations between past memories and future reconfigurations. Exploring with the possibilities of the 4DSOUND spatial sound system, that allows the production of sound holograms, the artist creates a morphological interplay of evocative sound memories that are related to the South American history and geography. To make a live performance of the artist uses fragments of field recordings and a complex repertoire of extended techniques for electric guitar and real-time sampling devices; that always come back to the sound motif that mimics the oceanic wave movement, as if we were already sunk in its depths.
Lucrecia Dalt
Born in Pereira, Colombia in 1980, and now based in Berlin, Germany, LUCRECIA DALT has seen her profile as a musician, sound artist and performer develop into high international regard. Her recorded albums - numbering seven in total since 2005 debut - encompassing the dual worlds of avant-garde and contemporary electronics, drawing in the background as a civil engineer as well as music and philosophy from across the world. Dalt's most recent album - acclaimed anticlines, released May 2018 through New York's RVNG Intl. - which was created from synthesis, voice, vocoding and feedback among other musical techniques. It has been described as a marvelous exploration of mercurial ambient music. As a performer, Dalt's philosophical metaphor about creating a complex, haunting narrative, embodying many artistic disciplines with the thought and contextual detail that goes into her work; deeply framed messages are bound together with abstract jagged music, rigid sound design and haunting, poetic vocals, to create a richly layered performance. It is at first felt a bit convoluted, but deep inside the music and beyond the lyrical narrative read a profound piece of insular art.
Tatiana Heuman
Born in Argentina, Tatiana Hueman's musical career started playing trumpet and drums with the free improvisation band Ricarda Cometa around 2009. Her unique approach to musical production was essentially a free, intuitive and experimental self-made territory where genres and tags are fluid and in permanent mutation. Her first album as a solo act was out in August 2018: 'QEEI' released on the label Astro Nautico (NY). She studied Dance, Corporal Expression (UNA) and Expanded Music (UNSAM), and is part of the communities #VIVAS (female * sounds platform) and TRRUENO crew, both based in Buenos Aires, Argentina.
https://www.tatianaheuman.com/
Mauricio Takara
Drummer of the bands Rakta, Hurtmold, Instituto and Sao Paulo Underground, Mauricio Takara works with samplers, synthesizers, effects and computers on his own project called M.Takara 3. The Brazilian percussionist has been on the international contemporary musical scene for his tours in countries like England, US, Canada, Poland, Czech Republic, Germany, France, Portugal, India and Brazil. He has worked with many artists including Otto, Nação Zumbi, Nana Vasconcelos, Damo Suzuki, Scotty Hard, Vanessa da Mata, Marcelo Camelo, Prefuse 73 and Joe Lally (Fugazi).
https://mauriciotakara.bandcamp.com/
Salisme
Salisme uses a combination of sounds that create an attractive body-shaking dance floor experience while daring your ears and expectations. This is the product of a constant exploration of the experimental scene in Brazil and playing all-genre disco parties while performing live sets in small places where people enjoy listening to noise or drone.
Now living in Berlin, Salisme collaborates on different projects and holds a residency at Cashmere Radio. Salisme actively participates in building fun and safe all-gender spaces.
Orieta Chrem
Orieta Chrem is a sound engineer, producer and DJ from Lima, Perú. Her love for worldwide rhythms meets her bass and techno background to deliver unique eclectic sets. She was the first Peruvian woman to attend the RBMA in Rome 2004. In 2014, she opened her sound studio QMULUS SOUND and built BQESTIA the only sound system in Lima 2017 she played at the first Boiler Room Lima, representing the underground / bass electronic scene in Peru. She also participated in the First Dutch Red Light Radio on her first official visit to the Peruvian Capital. Recently, she created LARARA, a new platform and online radio happening in different cultural spaces in Lima.
https://soundcloud.com/orieta-chrem


TAYHANA
Argentinian DJ and producer, Tayhana has established herself as one of the most powerful musical forces on South and Central American dancefloors. Her explosive energy and vast selection of vigorous club tracks, along with an extensive collection of regional hits, make her a favorite of many DJ's and club-goers. In addition to producing and DJing, Tayhana co-founded HiedraH Club de Baile, an essential party continuously revolutionizing both the sonic and physical atmospheres of the Buenos Aires underground. HildraH Club de Baile Politically and provocatively to the rhythm of "ghettos" around the globe all while pushing and preserving the experimental evolution of their local sound. Over the past couple years, Tayhana has collaborated with the record label SALVIATEK in Uruguay and is a recent addition to NAAFI in Mexico.
https://soundcloud.com/tayhana
BadSista
Producer and DJ BadSista musical ability leads the dance floor by various genres of electronic music, especially the peripheral genres such as techno, chicago house and brazilian funk. Music of the global ghetto. She is the founder of feminist collective Bandida which brings together more and more women from the electronic music scene. BadSista signed Linn da Quebrada's first album, "Pajubá", acting as music director and music producer. As if that were not enough, BadSista ran for the Women's Music Award, the first prize dedicated to recognizing women's efforts in the Brazilian music business. She was a nominee for Best DJ and Music Producer and Winner Best Music Producer of 2018.
https://soundcloud.com/badsista
ℌEXOℜℭℑSMOS
Moisés Horta Valenzuela is a sound artist and electronic musician from Tijuana, Mexico working in the fields of computer music and creative sound technologies. His preferred themes are in creating conceptual juxtapositions between dichotomies, such as utopia with dystopia and folk traditions with capitalist modernity. As HEXORCISMOS he crafts an uncanny link between ancient and contemporary sound technologies. Prehispanic sound artifacts from ancient Mexico, Deep Neural Network AI, contemporary brain-computer interfaces and hand crafted electronic instruments are blended together to situate the listener in a teknoXamanistic ritual of rhythmical noise soundscapes. His music works on the dance floor or on interactive immersive sound installations.
http://moiseshorta.audio
VISUAL INSTALLATION
Alex Guevara
Alex Guevara is a digital artist born in Lima, Peru currently living in Berlin. He works in a wide range of fields including digital art, interaction design, data visualization, generative design, interactive installations and real time music visualization, combining art, science and technology to create immersive experiences and stunning landscapes. His work has been presented in international festivals and exhibitions in Austria, Belgium, Canada, China, Germany, Ireland, Peru, Serbia, Slovakia, Spain, Switzerland, etc. http://www.alex-guevara.com
#MyBodyMyChoice directed by Lauren Pringle
What would you do if you had no bodily autonomy or a choice over your own destiny? How would you manage? Let us open your eyes and awaken your senses for an explosive physical dance. #MyBodyMyChoice is made up of a collective of bodies, some dancers and some bodies - mainly Latin American performers or linked to the region - who have a strong feeling towards the cause.
#MyBodyMyChoice aims to leave you remembering your body and recognizing your privilege within a political sphere that allows you to make a choice of what you do with it.
Directed and choreographed by Lauren Pringle, an audiovisual filmmaker and performance artist. Co-founder of Flow Altas Wachas, a political female body empowerment group from Buenos Aires, Argentina.
Producer: Virginia Hernandez
Assistant Choreographer: Amy Cooper
Movement Co-coordinator: Christian Orue
Art Direction / Wardrobe: Alin Bosnoyan
Soundscape: Ale Hop
Bodies:
Riley Davidson
Patrizia Bieri
Christian Mattias Orue
Lukas Friedemann
Julia Schmidt
Sofia Mattarollo
Ariane Mason
Stevie Southward
Camille Barton
Lauren Pringle
Yair Golinkin
Sofía Loose Martínez de Castro
Roc Gottschalk del Pozo
Kiki Ramos Sörvik
Sarah Alikhan
Flavia Canapa
Massimiliano Rossetto
More about Lauren Pringle
Based in Berlin, Lauren Pringle continues to develop her research on movement. Her work is focussed on bridging cinema and movement with everyday bodies in the public sphere. Her central focus is body autonomy and the right for everyone to do what they do with their body. Her last movie SHOVE, about abortion rights in Argentina, received critical acclaim, which was named as one of the Best Politically Raising Awareness Films by ID Magazine, which was selected for Best Dance Film at Aesthetica Short Film Festival being supported by women's and abortions rights movements worldwide.
Her main exploration is working with all kinds and bodies of bodies, dancers or not, to create emotional movement theater that wants to take you on a journey.
@ dBs Music Berlin
WORKSHOP
Cajón, Instrument in Migration with Laura Robles.
Theory, History and Practice.
Time: 11:30 am - 2:30 pm
Location: dBs Music Berlin
Room: Co Lab 3
Laura Robles
Laura Robles (cajón, bass) was born in Swaziland and grew up in Lima-Peru.
She studied traditional Afro-Peruvian and Cuban music, with Amador Ballumbrosio, Juan Medrano Cotito, Nilo Borges, Laureano Rigol, Roberto Borrell amongst others at El Instituto Negro Continuo directed by Susana Baca and is currently considered one of the most important cajón players in the world.
PANEL
Themes: Migration, the EUR centric experience Latin American music Moderated by Nathassia Arrua
No Shade: https://www.noshade.eu/
Time: 3:00 pm - 5:00 pm
Location: dBs Music Berlin Room: Co-Mingle


Nathassia Arrua
Nathassia Arrua aka PERIGGA is a dj, producer, researcher and active member of No Shadow, a collective, training and mentoring program for women, trans and non-binary people. Born in Brazil and based in Berlin, her research encompasses sound, image and digital at anthropological perspective, as part of her interdisciplinary master degree at the Free University of Berlin. She works in a project on the structure of communities and diffusion of knowledge at the same university. They were part of the Gira Festival of Resistment and Djing in Workshops and Training (GSBTB Open Music Lab), which seeks to empower and include marginalized communities by facilitating access to technology.