22.02.20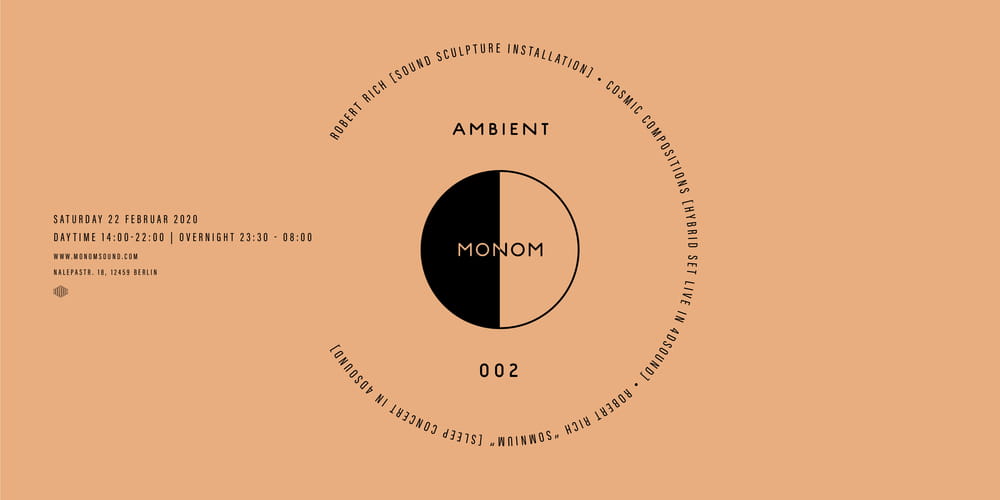 Day + Overnight combo - Ambient 002 ft. Robert Rich's 'Somnium' Sound Sculpture Installation & Cosmic Compositions live

22.02.20 in Berlin, MONOM @ Funkhaus Berlin
Tickets for Day + Overnight combo - Ambient 002 ft. Robert Rich's 'Somnium' Sound Sculpture Installation & Cosmic Compositions live
Berlin
---
Information
Day + Overnight Combo
Join us for both the day time and night time session.
Daytime - Feb 22nd
14:00 - 22:00
Robert Rich (Sound Sculpture Installation)
Cosmic Compositions (Hybrid Set Live in 4DSOUND)
aka
Cynthia / Aporia
ETno.home
Alexander Ross

Overnight - Feb 22nd into Feb 23rd
Doors 23:30
Concert 00 : 00 - 8:00 am
Robert Rich 'Somnium' (Sleep Concert sound sculpture installation in 4DSOUND)
Please note that the overnight performance is to be experienced in its entirety. Beds, blankets and pillows will be provided, but warm clothes and additional covers are recommended for comfort. Eye tasks for complete darkness during the show are also suggested. Breakfast will be served in the morning.
Please be on time, doors will close at 00:00 sharp.
Please bring water bottles with you.